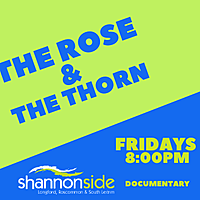 The Rose and the Thorn
The rose is the most popular flower in the world and it is a symbol of love. But its thorns are vicious and always a surprise, snagging you as you reach in to touch the flower. With one comes the other. As the rose and the thorn are one, so are love and loss. It is the love of friends and family that provides the rosiest moments. And missing those we love, the thorniest. This will be a series of reflections which will be personal, honest and insightful in times before and during COVID from well-known people from the community who will share their experiences, each one individual to them.
Latest episodes
Shannonside Newsletter
Sign up now to keep up to date with the latest news.